Camp Phoenix Bookings
To book your child onto a course, click the blue button below for the week you want to book – this takes you to the WebCollect page, select the activities you would like to book and "Add to basket". If you have more than one child, you can book multiple places and fill in extra forms at the checkout. When you have selected all of the activities, go to "My Basket", check your bookings and then click on "Checkout". You will be asked to fill in the forms before going to payment.
The minimum age is 9 for all Camp Phoenix Activities.
Easter 2022 Bookings:
Easter Week 1 – 4th – 8th April 2022  
Easter Week 2 – 11th – 14th April 2022   
Whitsun Half Term 2022  Bookings:
Whitsun Half Term – 30th May – 3rd June 2022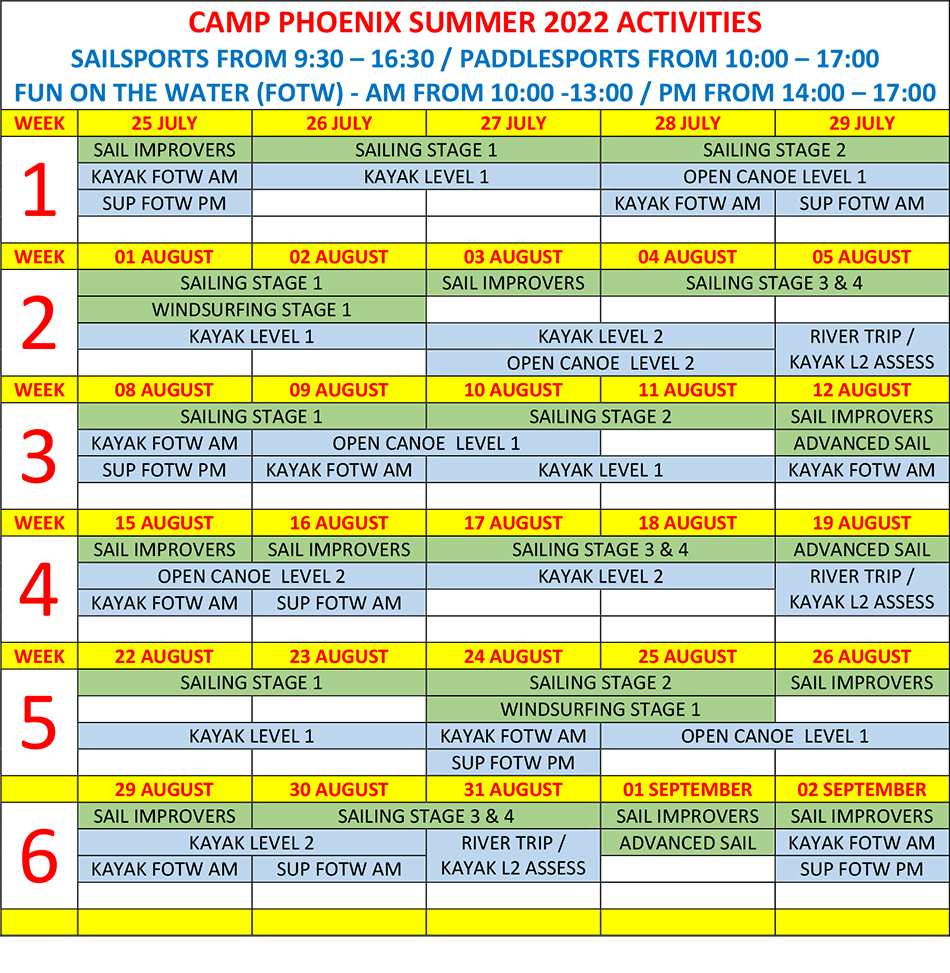 Summer 2022 Bookings:
Summer Week 1 – 25th – 29th July 2022 
Summer Week 2 – 1st – 5th August 2022  
Summer Week 3 – 8th -12th August 2022  
Summer Week 4 – 15th – 19th August 2022
Summer Week 5 – 22nd – 26th August 2022 
Summer Week 6 – 29th Aug – 2nd Sept 2022  
Autumn Half-Term 2022 Bookings:
Autumn Half Term – 24th – 28th October 2022  
For more details and bookings contact:
Centre Activities Manager – Mark Underwood – 07854 655968 / mark@phoenixoutdoorcentre.co.uk
Centre Development Director – Phil Atkinson – 07837 585798 / phil@phoenixoutdoorcentre.co.uk
Subscribe to Canoe Club Newsletter
Subscribe to Camp Phoenix Newsletter
​Phoenix Canoe Club Limited is a registered charity, no. 1148787 and a company limited by guarantee, registration no. 8002910.  Phoenix Canoe Club and Phoenix Outdoor Centre are trading names of Phoenix Canoe Club Limited.
© 2022 Phoenix Canoe Club Limited. All rights reserved.